Custom artwork
Many of our machines can be customised. You can add your own bespoke artwork to the sides, front and top marquee area of the cabinet.
We can match to specific colours right down to a particular Pantone or RAL colour. So, your arcade machine can fit perfectly with your company branding or room decor. Plus, you can pick and choose from a range of buttons, controllers and LED colours.
And, if you are buying for your office or a venue, why not stay on brand and add your company logo?
Whatever your design requirements, we'd be delighted to bring your concept to life. Drop us a line to discuss your ideas.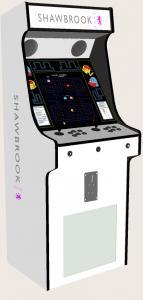 A one-of-a-kind gifts
Looking for a truly original gift for the gaming nut in your life? Deliver that wow-factor at Christmas, or for a birthday, with a fully customised arcade machine.
Pick the games package that features all of the classics – past and present, then customise your machine with awesome artwork from their favourite game on the front, top and side panels. Or, for the minimalist in your life go for uber-cool matte black all over.
It's the perfect addition to your:
– games room
– man (or woman!)-cave
– the kids' playroom
– or, why not, pride of place in your lounge!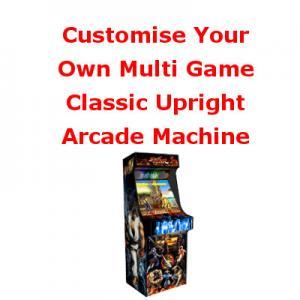 Custom arcade machines – bespoke design
If you can't find what you want from our wide range of machines, Arcadecity can design and build an arcade machine to your own specifications.
If you have any questions regarding our customised artwork or bespoke design machines, please contact us.
When in stock, our un-customised arcade machines have a 3-10 day delivery window. When ordering customised machines, or if placing an order for any machine that is currently out-of-stock please allow a 10-21 day delivery time.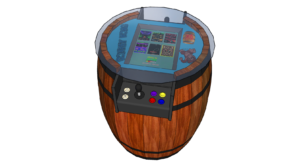 Coin-operated arcade machines
We can adapt our bartop arcade machines to become coin-operated.
Charity collection custom arcade machines
We can also create a charity bartop arcade machine which has a coin-slot. These machines accept any currency and any denomination that fits the slot, so you can raise valuable funds for great causes, while people play.
For any custom design artwork, machines or components – or, if you would like to discuss any other bespoke arcade machine ideas that you have – please get in touch with us.