A BIT ABOUT US
Arcadecity.co.uk is a family-run, online, retro, arcade machine store. We offer a wide range of high-quality, handmade arcade machines, built using skilled-craftsmanship.
Our passion is building old-school arcade machines for the modern venue. Whether you are buying for your home or want a cool addition for a workplace, we want to help you create the perfect retro gaming vibe for the space.
And, we are computer games obsessed. Our machines come loaded with a wide range of the very best games of the last three decades – choose the pack that offers all of your favourites.
We offer a wide variety of classic and contemporary arcade machine designs, with styles from the early 1980's right through to the very latest trending arcade machines – so you can choose the look that works best in your home, office, or venue.
All of our machines can be viewed via the online shop, and we have plans to open a showroom in London, UK in the near future.
We build the following types of arcade machines – follow the links below to have a look at our range:
Table-style, seated, head-to-head machines. Less imposing than the upright models – ideal if you want a more discrete style of machine. And it's perfect for perching a vodka-martini on while you play.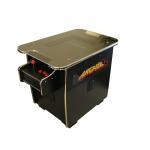 For the full retro gaming effect, the classic 2-player upright machine is perfect. Ideal for venues, workspaces and anyone looking to recreate that original arcade look.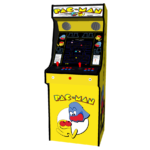 Like the original 2-player version, 4-player machines have that classic old-school arcade feel. But, with an additional 2 sets of controls, it allows for 4-players to play simultaneously – double the fun.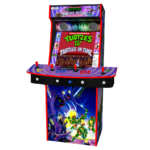 The more compact table-top version of our classic upright arcade machine. All the fun, less of the size.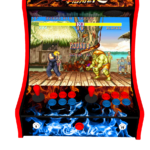 If you want to play through your own TV, our fight-stick console is a great choice. Just hook it up to your big screen and you are good to go. And it's nice and compact, so easy to tuck away when you have finished.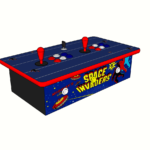 Looking for a last minute birthday gift? Check out all of the arcade machines that can be fast-tracked to your chosen UK address. You will be playing in just 3-5 days.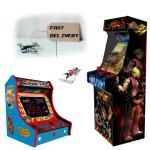 Many of our machines are customisable, allowing you to add your own bespoke artwork, colours, or branding. So if you are buying for your office or a venue, why not add your own branding and logo? Contact us to discuss your design.
Bespoke arcade machines

If you still can't find what you want from our wide range of machines, Arcadecity can design and build an arcade machine to your own specifications. Just call or email us to discuss this option.
Arcadecity.co.uk continuously works to provide great customer service, and to improve the online shopping experience for our customers. If you are unsure of what arcade machine you want, or you need advice on what to buy, or you have any questions regarding our customised artwork or machines, please contact us.
When in stock, our un-customised arcade machines have a 3-10 day delivery window. When ordering customised machines, or when placing an order for any machine that is currently out-of-stock please allow a 10-21 day delivery time.